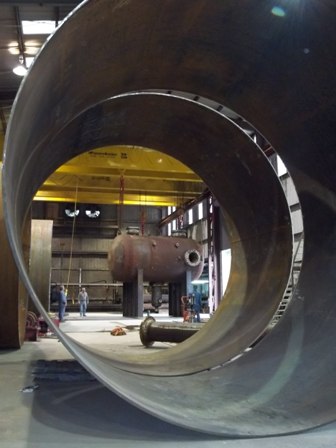 Fabrication
With over 20 years of fabricating ASME Code vessels and over 10,000 vessels in use around the world, BWFS Industries LLC provides the top quality fabrication products and fabricating services our clients need at a price that is highly competitive. Our fabrication shop has the capacity to lift and handle vessels 15 feet in diameter and up to 100 tons.
In 2009, BWFS Industries LLC became an ASME Division 2 pressure vessel manufacturer. Our in house engineering capability and over 50 years of combined vessel design experience means our dedicated staff can provide fabrication products and fabricating services of a much larger company at far more reasonable costs.
BWFS Industries LLC fabrication shop operates 24 hours a day, 6 days a week to fabricate products and provide fabrication services to our clients. This means we can provide the manpower and fabricating services to meet your critical fabrication product needs.


Throughout the years, BWFS Industries LLC has gained experience working on a variety of designs including produced water filters, separators, pulsation bottles for gas compression, and a variety of specialty vessels. For more details on the products that we can offer, browse through our Welding Products page.

With welding procedures in place and experienced staff, BWFS Industries LLC provides vessels in carbon steel, 300 & 400 Series Stainless, Hastelloy, Duplex, Super Duplex, and 9 Chrome.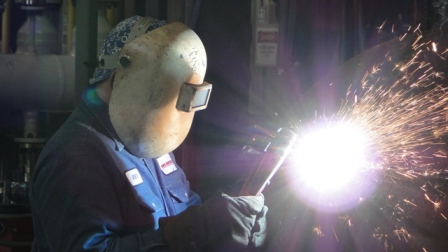 Along with our vessel fabrication,BWFS Industries LLC provides piping to meet ANSI B31.1 or B31.3 piping codes. If metallic piping is not what youíre needing, BWFS Industries LLC is a certified fabricator of Ameron fiberglass piping. We also have experience in PVC and CPVC piping. BWFS Industries LLC provides piping systems based on your piping isometric drawings or your general arrangement drawings. If you donít have a layout, you can provide us with a P&ID and basic requirements and we can design a piping system for you.

Structural items are another fabrication product that BWFS Industries LLC routinely provides. Fabrication products range from structural skids, handrails, ladders, to a variety of custom designed plate products. BWFS Industries LLC has a full complement of metal working equipment that keeps most of the fabrication in house. This allows us to control production and quality, and eliminates trucking costs and delays associated with working with sub-vendors.


Contact BWFS Industries LLC about your fabrication needs!
BWFS INDUSTRIES LLC
5637 ETHELINE
HOUSTON, TX 77039
Phone 281-590-9391 Fax 281-449-8563
†