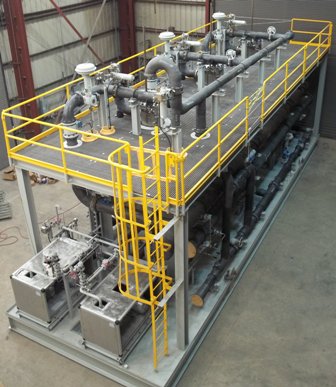 Skid Packages
Many of the vessels that BWFS Industries LLC manufactures are part of packaged units for offshore platforms or onshore plant installations. BWFS Industries LLC manufactures and assembles these packages per customer engineered drawings or can provide layouts and design work based on customer furnished P & IDís. From designing the base skid, performing stress analysis up to providing piping layouts to doing piping isometric drawings, BWFS Industries LLC provides a complete design package for your needs.


BWFS Industries LLC has experience in B31.3 and B31.1 piping codes for metal piping as well as being trained by Ameron for Bondstrand fiberglass reinforced piping. BWFS Industries LLC has fabricated skid packages that required PVC and CPVC piping. BWFS Industries LLC has lifting capacity so we can load out skids up to 200,000 lbs. BWFS Industries LLC has hook heights of over 30 feet so we can assemble very high structures and double deck units.


Contact BWFS Industries LLC today!
BWFS INDUSTRIES LLC
5637 ETHELINE
HOUSTON, TX 77039
Phone 281-590-9391 Fax 281-449-8563
†